Information for visitors
Opening hours
Tuesday - Saturday 10 am - 5 pm
Sunday and public holidays noon - 6 pm
Closed on Mondays
The Diocesan Museum St. Afra is closed on the following holidays
New Year's Day
Shrove Tuesday
Good Friday
Easter Sunday
Whit Sunday
Corpus Christi
Christmas Eve
Christmas Day
Boxing Day
New Year's Eve
Annual ticket
(valid 1 year from date of exhibition, including for all special exhibitions): 19.00 €
Regular fees
Adult: 4.00 €
Reduced fee (children, students, pensioners, unemployed or handicapped persons): 3.00 €
Children under 6 years go free
Family ticket: 8.00 €
Group ticket (starting from 10 persons): p.p. 3.00 €
School classes: 40.00 €
If visiting with a school class, please contact us in advance, even if you are not booking a guided tour.
Admission is free on the 1st Sunday of every month (except during special exhibitions)!
Admission fees during special exhibitions
Adults: 7.00 €
Reduced: 5.50 €
Family ticket: 14.00 €
School classes: 40.00 €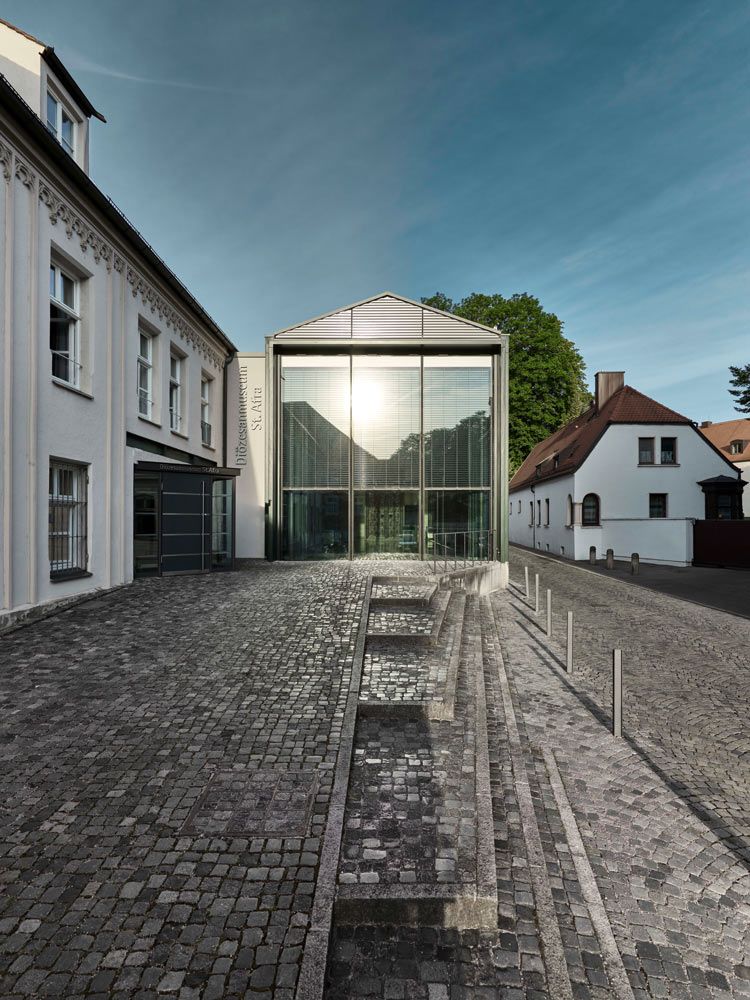 Guided tours are offered in german, english, french and italian
On request: +49 821 3166-8833 or
This email address is being protected from spambots. You need JavaScript enabled to view it.
Regular guided tour: p. p. 3.00 €
Booked tour: 50.00 €
Guided tour museum and cathedral, ca. 1.5 hrs.: 70.00 €
Accessibility
Due to its historical structure the museum is only partly barrier-free.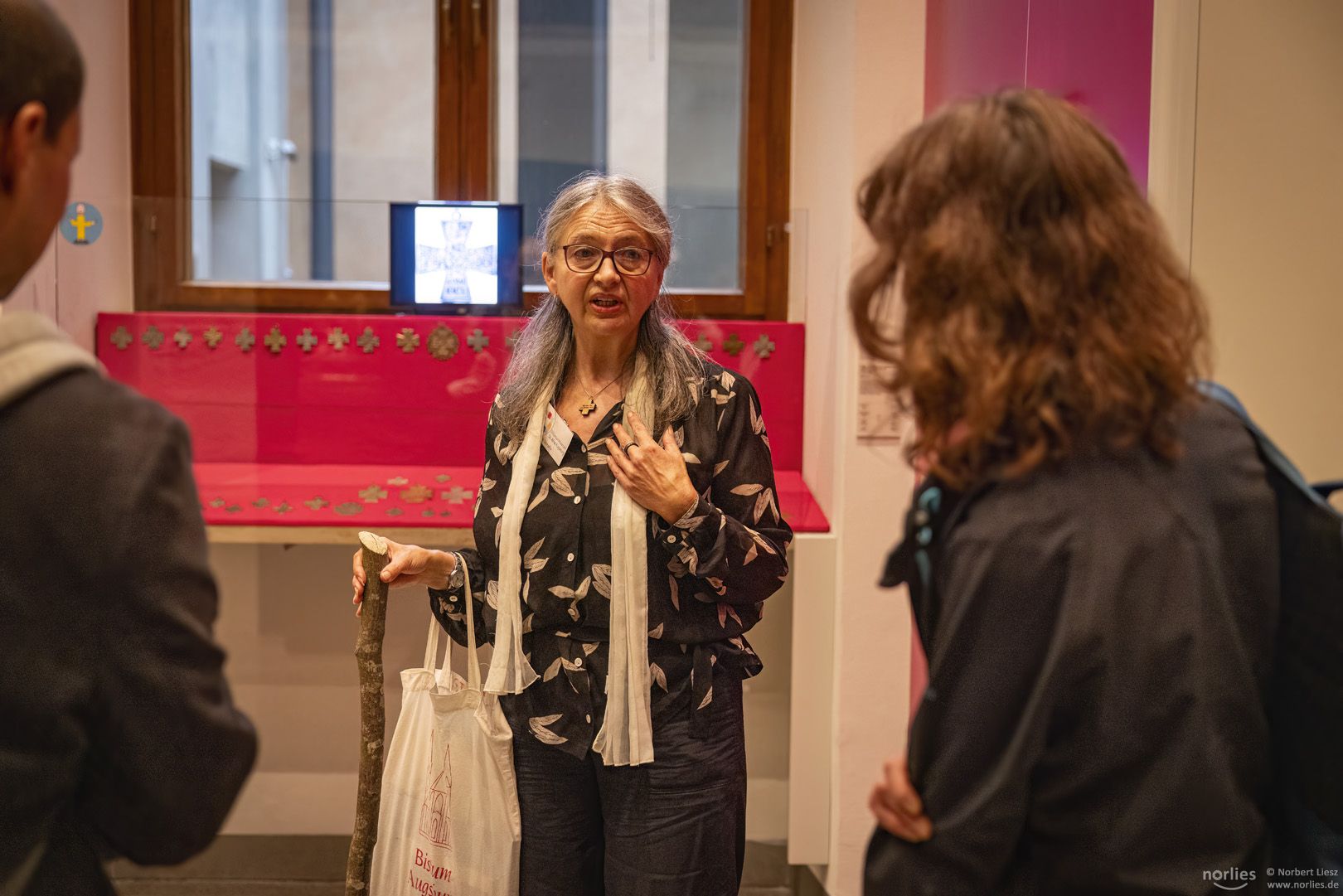 By tram & bus
Tram line 2: Stop Stadtwerke/Dom or Mozarthaus.
It takes about 20 minutes to walk from the main train station via Königsplatz, Moritzplatz and Rathausplatz to the Diocesan Museum or about 10 minutes by tram line 4 to Königsplatz and then by tram line 2 to Stadtwerke/Dom or Mozarthaus.
By car
If you are travelling by car, take the motorway "Autobahn A8 München-Stuttgart" and turn off at the exit "Augsburg Ost". Follow Mühlhauser Straße and Hans-Böckler-Straße. After crossing the river Lech, turn left at the next traffic light into Georg-Haindl-Straße. Then turn right into Stephingerberg. Taking the left at the end of the road into Frauentorstraße will lead you right to Augsburg Cathedral. The museum is situated next to the cathedral on the northern side in Kornhausgasse.
Please note that there is no parking available directly at the museum.
Maps of urban parking in Augsburg
www.stadtplan.augsburg.de/mapsight/stadtplan
https://www.augsburg.de/buergerservice-rathaus/verkehr/parken
Hotels and accommodation in Augsburg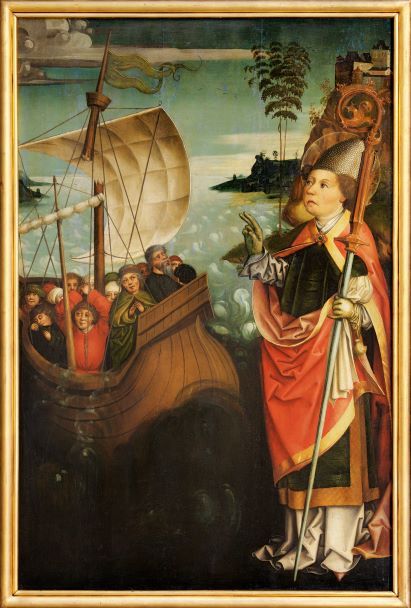 The museum is meant to be enjoyed by everyone. We want all our visitors to have a pleasant experience. Therefore, we are constantly working on improvements concerning accessibility and visitor service. If you have any questions or suggestions, please do not hesitate to approach the cashiers or the supervisory staff.
You are welcome to also contact us at +49 821 3166-8833 or This email address is being protected from spambots. You need JavaScript enabled to view it. either after or in advance to your visit.
Access to the museum
The museum entrance is on Frauentorstraße and is accessible via the forecourt and a wide stone-paved ramp. Regrettably, there are no electric door openers but our staff are happy to help. The cashier's is situated on the left, directly behind the entrance. An additional entrance with a five-step staircase can be accessed via the cloister.
Accessibility of exhibition rooms
Due to its historic structure, the museum is only partly barrier-free. Ca. 60% of the building are accessible for wheelchair users.
The following areas are barrier-free (marked red on the groundplan):
Room 1 and 2: completely barrier-free Room 3 and 6: accessible via elevator (door width: 90 cm)
The following areas are accessible via steps or stairs only:
There are three steps between Room 3 and 4 as well as three upward steps and four downward steps between Room 4 and 5 (all outfitted with a handrail). The Gallery in Room 2 can only be accessed via staircase.
The cloister (marked light red on the groundplan) has a barrier-free access from Room 3. Please ask our supervisory staff to unlock the door there for you. The cloister is also accessible from the cathedral without any barriers. Please note that there is a barrier-free access from the museum to the cloister, but not the other way round. When entering the museum from the cloister, you have a five-step stairway to climb.
Admission Fee
Handicapped visitors pay a reduced entrance free. Admission for one accompanying person is free on presentation of pertinent attestation.
Cloakroom
The barrier-free cloakroom and lockers are located in the entrance area. Our supervisory staff are happy to help.
Lavatories
The lavatories for disabled persons are located in the cellar and can be reached via elevator (door width 90 cm).
Reading and magnifying glasses
You can borrow reading glasses in a variety of strengths as well as magnifying glasses at the cashier's.
Seating
There are seating possibilities in all exhibition rooms.
Plan des Museums